Are you an introducer or client looking to borrow from us?
Give us a few details and we'll call you back within one working day
contact us today
We can provide secured short term facilities for a wide range of purposes up to £5m. Goldentree lend throughout England, Wales and parts
of Scotland. See our Loan Product Table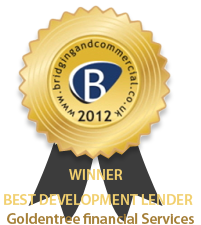 POSTAL ADDRESS:
UNIT 4A, BIRCHWOOD ONE BUSINESS PARK,
DEWHURST ROAD, WARRINGTON WA3 7GB

Registered Office: Spectrum 56 – 58 Benson Road,
Birchwood, Warrington WA3 7PQ.
Registered in England No 4179323

Development Finance
Goldentree are one of the leading specialist property development financiers in the UK. We finance both house builders and property developers.
More on our Development Finance Loans
Bridging Finance
Goldentree provide Bridging Finance for a variety of purposes, including; property purchase, capital release, redevelopment and refinance, usually secured with a 1st Charge.
More on our Bridging Finance Loans
Refurbishment Finance
Goldentree have a range of products which finance the acquisition and refurbishment of UK residential property. We can finance up to 90% of the cost of a property with these products.
More on our Refurbishment Finance Loans
*We do not provide or arrange regulated mortgage contracts but please visit our associate company
Birchwood Mortgages Ltd
who are authorised to do so.
We are quick and professional

We will respond to any enquiry
within one working day.
We have previously completed deals
within 48 hours of the initial enquiry.
Service is a key part of what we do

We visit every property we lend on and meet everyone we lend to.
Our credit and pay out process
is one of the fastest in the market.
Benefit from our vast knowledge and experience

We are experienced property professionals in our own right.
We aim to look at the deal from
your point of view and work together.
---